As the
sixth-largest city in the country
, Philadelphia, Pennsylvania needs no introduction. Homes in Philly are as diverse as their neighborhoods. Here, multi-million dollar homes are far from the norm. According to an
analysis by LendingTree
, less than 2% of owner-occupied housing units in the Philadelphia metropolitan area — or about 25,600 — were valued at or above $1 million. However, the number of multi-million dollar homes in Philadelphia has been on the rise for over a decade. This is spurred mainly by New Yorkers who sought to relocate during the pandemic, settling on Philly for its central location, relative affordability, and lower density. Today, luxury homebuyers can find these properties in the more affluent outskirts and the Center City communities, such as Society Hill and Rittenhouse Square.
At
The Susan Fitzgerald Team
, we keep a close eye on high-profile sales in order to stay informed and ahead of trends as there is much to learn from recently sold properties.
A close look at Philadelphia's recently sold multi-million dollar properties
1. 1414 South Penn Avenue — $1.3 Million

Since its construction in 2009, The Ritz Carlton Residences have become some of the most desirable pieces of real estate in Philly. This 48-story contemporary masterpiece is characterized by its impressive crystal spire and floor-to-ceiling glass curtain wall construction. The tower looks out at William Penn atop City Hall, providing residents with close and convenient access to downtown.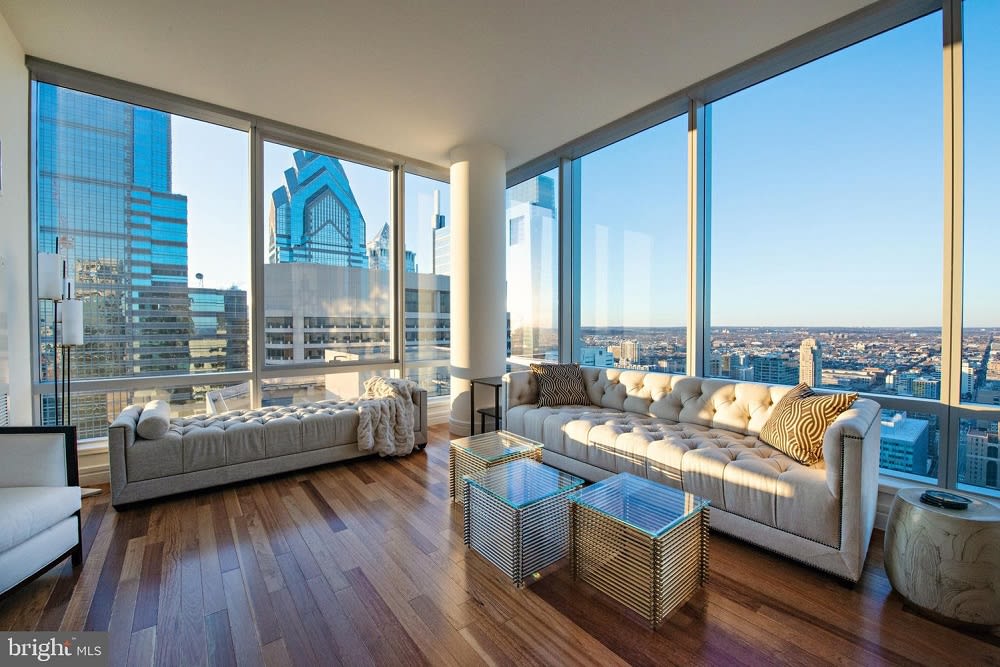 The beloved
1414 South Penn Avenue
perfectly encapsulates what makes living at The Ritz Carlton Residences so unique. Nestled in the heart of Center City, this property is the epitome of luxury living and recently sold for $1.3 million. The residence offers two bedrooms and two baths spanning over 1,645 square feet. From its designer kitchen and marble floors to its soaring ceilings, 1414 South Penn Avenue is a work of art. Not to mention, it boasts some of the most incredible sunset views in all of the city. While the condo's interior is unequivocally impressive, the location is one of the main draws. The Ritz Carlton equips its residents with easy access to the best restaurants, shops, and parks, located only steps away.

Homebuyers prioritize walkability
Homebuyers are on the lookout for a property that will be within walking distance of their favorite shops and stores. The pandemic shifted the way people view their homes, prompting an increase in individuals who want to live in a walkable area. Research from the National Association of Realtors revealed that
living in a walkable community correlates to a significantly stronger reported quality of life
— and that metric rose during the pandemic. There are many reasons that people are showing an increased interest in living in walkable communities, including embracing a healthier lifestyle, being environmentally friendly, and enjoying an enhanced sense of community. The phrase "location, location, location" carries weight when it relates to real estate.
2. 202 West Rittenhouse Square — $3.9 Million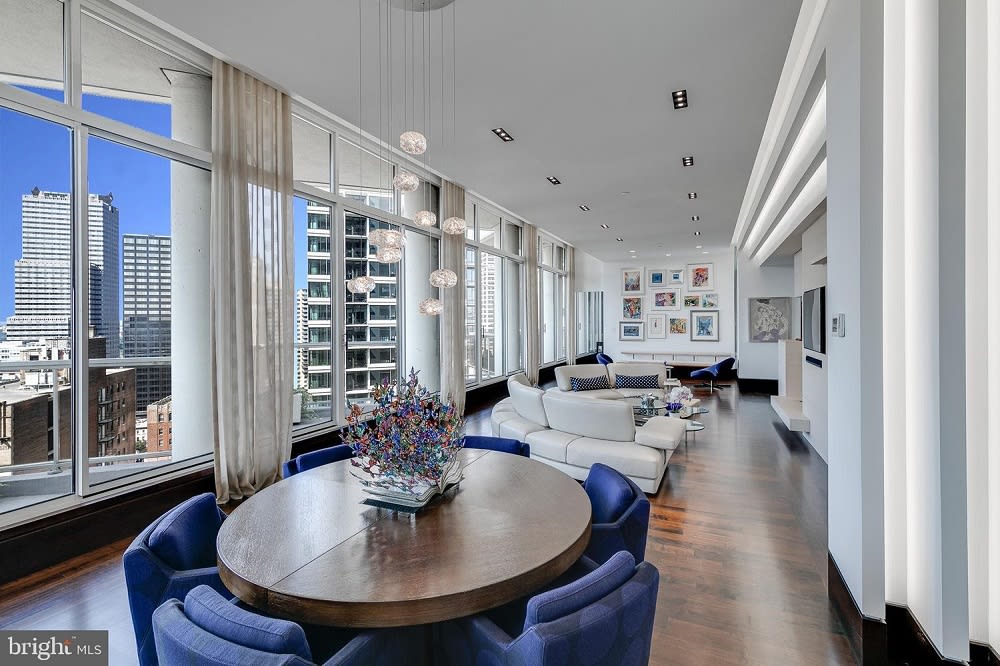 The Rittenhouse is known for housing some of the most expensive real estate listings in Philadelphia — including a condo at
202 West Rittenhouse Square
that recently sold for $3.9 million. Covering 2,954 square feet, this condo is a breathtaking example of a modern architectural masterpiece. This is illustrated in everything from the slatted walls to the intricate ceiling design. The spacious foyer leads to the open-concept layout, which allows for individual activities and social togetherness. Throughout this designer home, residents will have
SieMatic Cabinetry
in the kitchen, baths, and living room. Perhaps more impressively, the condo boasts balconies from every room, providing residents with quick and easy access to the outdoors.

Homebuyers want amenities and services

This Rittenhouse condo shows the desire for services and amenities. Luxury condo buyers are looking for features that enhance their lifestyle and support health and wellness. One of the main benefits of owning a condo over a single-family home is its more convenient lifestyle. The Rittenhouse offers a wide array of top-notch services, including chauffeur-driven town cars, room service, housekeeping, doormen, and concierge. Plus, residents of the building have access to a wealth of state-of-the-art amenities. This encompasses the Rittenhouse Spa & Salon, fitness center, indoor lap pool, restaurants, and bar — all just steps away from your front door. With so much in store, it's no surprise that homebuyers are willing to pay for the convenience that these amenities offer.
3. 1718 Delancey Place — $2 Million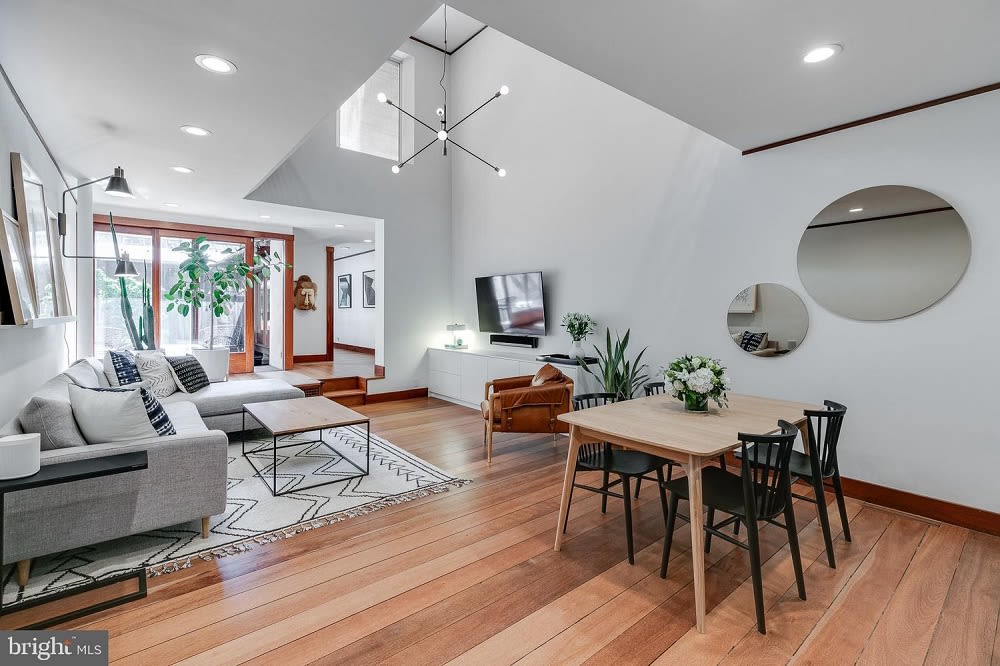 Nestled on the quiet, idyllic Rittenhouse Square block,
1718 Delancey Place
recently sold for $2 million. The townhouse comprises three bedrooms and three baths, totaling 3,207-square feet. This charming home offers the rare opportunity to live in an elegantly designed carriage house, complete with unique and intricate architectural details throughout. The property offers two private decks overlooking a beautifully designed koi pond, as well as secured parking, a finished basement, and built-in storage.

Homebuyers want to entertain

Although this property offers many notable features, perhaps its most impressive quality is its space for entertaining. Homes best suited for entertaining guests have several common factors, such as open spaces, lots of light, and places for seating and standing. The luxury 1718 Delancey Place has all of that and more. The first floor is an entertainer's dream, with a perfect space for cooking for friends or enjoying a game night in the living room. The custom-designed gourmet kitchen is equipped with a large island, breakfast bar, farmhouse sink, custom cabinetry, and stainless steel appliances. The dining and living rooms boast 20-foot ceilings, with a wall of overhead windows that enable natural light to flow through. In addition to the dazzling views, the living room provides access to the private decks and peaceful koi pond — an addition that is sure to impress your guests. After all, one of the best ways to create a larger entertaining area in one's space is by taking the party outdoors. The private decks create an opportunity to integrate outdoor space into your entertaining plan. These qualities make this property an ideal space for those who enjoy socializing and entertaining guests, whether through movie nights, shared meals, or game nights.
4. 2207 Chestnut Street — $4.2 Million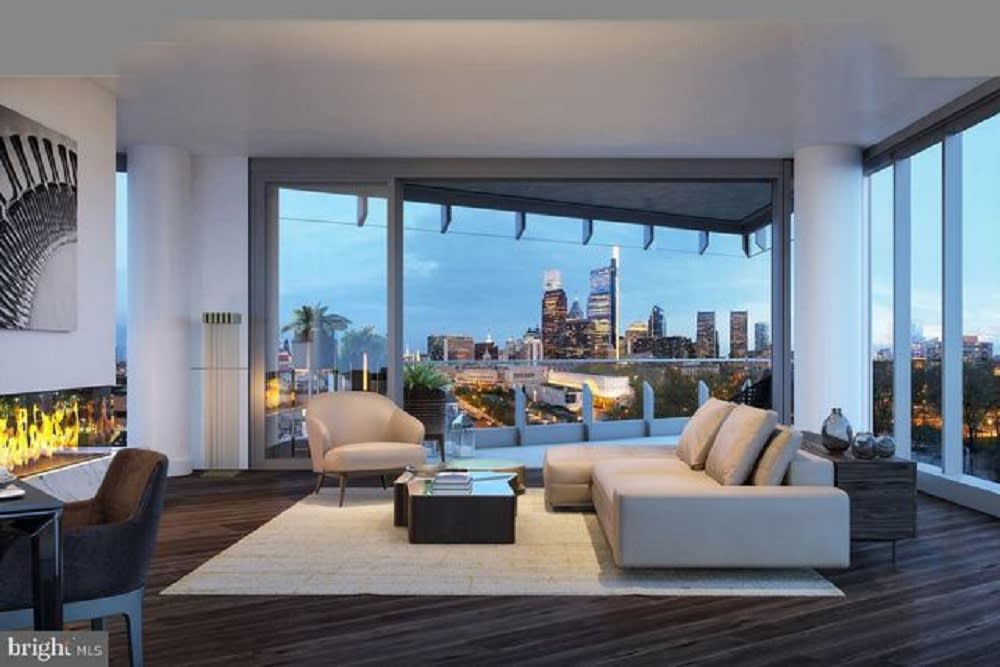 The Penthouse at
2207 Chestnut Street
spent five days on the market before it sold in 2021 for a total of $4.2 million. Built in 1930, this luxury penthouse offers three spacious bedrooms spanning approximately 3,900 square feet. Oversized windows in the front of the home enable residents to take in views of the city's sweeping skyline, as well as flood the room with natural sunlight all day long. The living room boasts 10-foot ceilings and an impressive nearly 30 feet of frontage. Perhaps the most impressive room in the house, the kitchen is finished with
Scavolini cabinets
and shelving, a Sub-Zero refrigerator, and a wine fridge. Other rooms in the penthouse include a library, home gym, and the primary bedroom that offers direct access to the 1,200 square foot terrace overlooking the entire city.

Homebuyers want peace and privacy

Although buying a penthouse isn't an option for everyone, these listings show an increased desire for privacy and peace. One perk of penthouse living is that you don't have to deal with upstairs neighbors. Similarly, penthouses are further from the street noise below, making them quieter than other apartments. Many penthouses also offer an impressive outdoor space, such as the 1,200-foot private rooftop terrace in 2007 Chestnut Street. This provides residents with the perfect spot to enjoy a peaceful afternoon, soak up the sunshine, or entertain guests. You'll have a birds-eye view to take in the impressive scene of the city below.
5. 1008 Clinton Street — $1.6 Million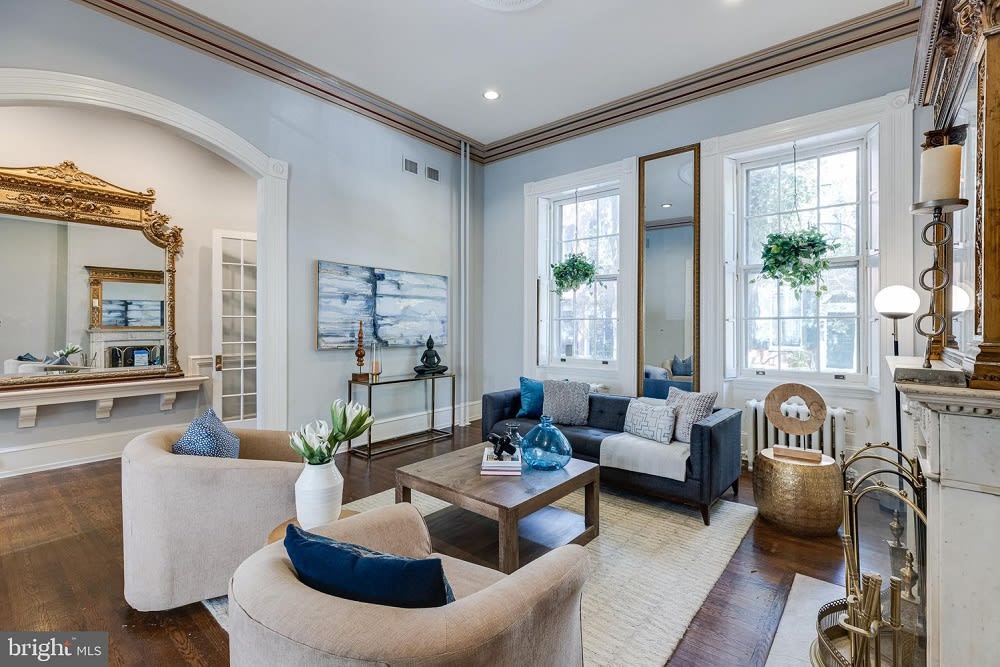 Located on one of Philadelphia's most famous streets,
1008 Clinton Street
recently sold for $1.6 million. Spanning across 5,645 square feet, the townhome features five bedrooms and four bathrooms. The property was built in 1842, and the home is steeped in grandeur and history. This can be seen in the wood-burning fireplaces (surrounded by marble and alabaster mantels), opulent French doors, and an elegant sitting room.

Homebuyers are returning to a traditional layout
Unlike newer constructions that commonly have an open-concept design, 1008 Clinton Street offers separate living spaces. Open floor plans have unquestionably dominated modern home design since gaining popularity in the 1970s. Yet, the pandemic shifted the way people viewed their homes, re-introducing the desire for separate areas to live, work, and play. Research from the
American Institute of Architects
reveals a decline in homebuyers' interest in open floor plans. On the contrary, the market has witnessed a shift towards formality, with the reemergence of separate dining rooms and foyers. While open floor plans provide benefits — including more efficient use of space and natural lighting — there has been a renewed interest in traditional layouts. This historic property on Clinton Street enables its residents to enjoy separate spaces that allow for more privacy from room to room.
Looking for luxury property in Philadelphia?
Contact The Susan Fitzgerald Team
real estate today if you're interested in exploring Philadelphia luxury homes. With years of experience in the real estate industry and deep knowledge of Philadelphia homes for sale, our talented team can help you find a house that truly feels like home.