With summer right around the corner, it's almost time to pull out the barbeque grill and get the pool ready for the season. While this is one way to entertain guests outdoors at your Devon real estate, there are several other ways you can entertain this summer. With home designs now including things like outdoor kitchens and portable movie screens, there are a plethora of ways to entertain your guests. And if you're simply looking for ways to upgrade your current outdoor space, then you'll love some of these trends for luxury outdoor entertaining amenities.
Amenities for luxury outdoor entertaining
An outdoor kitchen
If you enjoy grilling, an
outdoor kitchen
may just be the luxury entertaining amenity you need. Not only does this provide you with an additional cooking space that can be used throughout the year, but it also helps to turn any backyard into a space for entertaining. Some outdoor kitchens feature the full suite of kitchen appliances, from sinks, stoves, and fridges, while others feature grills and brick ovens.
No matter what you opt for in your outdoor kitchen, you can expect it to be the focal point of any outdoor entertaining, as you can also incorporate a bar and a seating area for yourself and guests. But if the Devon homes for sale you're looking at don't include this, don't worry! Due to how trendy outdoor kitchens have become, there are more than enough contractors that can help you build the outdoor kitchen of your dreams. But if you're hoping to snag a property that already includes one, make sure to inform your realtor, so they can help you locate some Devon homes for sale that feature it.
If you aren't interested in an outdoor kitchen, there are plenty of items that you can take from this luxury design to create an outdoor living space that you love.
Pool, hot tub, or sauna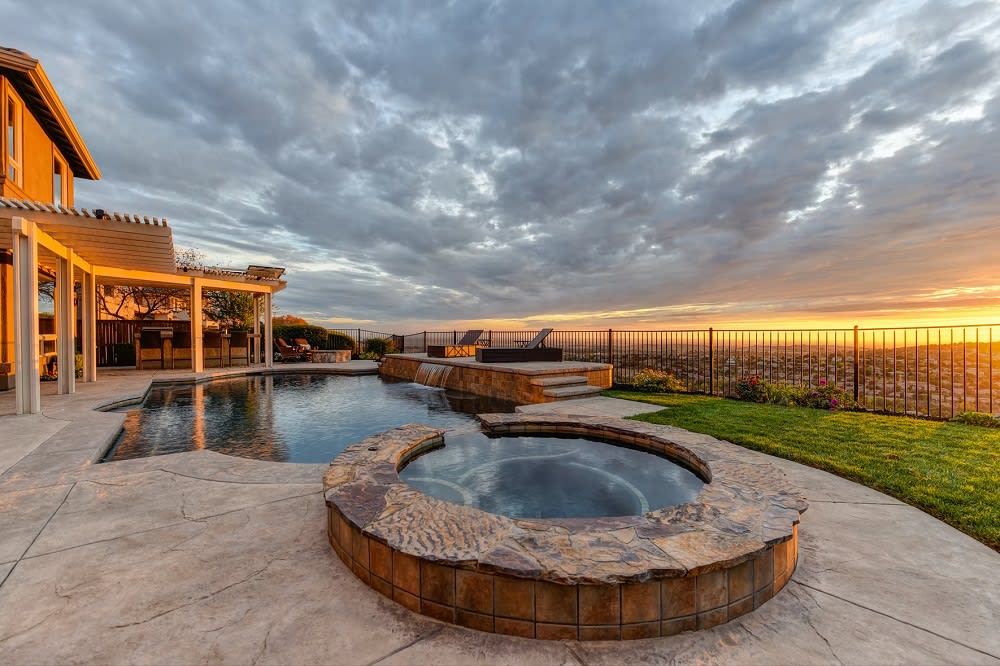 Most spas have pools, saunas, and hot tubs
as special amenities. If you'd rather experience this in the comfort of your own home, consider adding these to your outdoor area. Pools have always been considered a luxury outdoor amenity that many homeowners want when they begin their search for Devon homes for sale. And while pools are not only great for keeping cool in the summer heat, they can also be a great focal point in your backyard. With all the options available now, when it comes to pools and pool design, you are guaranteed to find one to fit both your backyard aesthetic and your family's needs.
Saunas and hot tubs might not necessarily be on the top of the list when it comes to must-have amenities when house shopping, but that doesn't mean that you shouldn't consider them. In the same way that pools come in a variety of sizes, so do these items, making them easy to incorporate into your Devon real estate after purchase. And unlike pools which can be considered a seasonal amenity, saunas and hot tubs can be used year-round, making them perfect for outdoor entertaining even in colder months.
If you aren't looking for the full spa aesthetic, having any of these amenities can help to establish a focal point in your backyard, making it the perfect location to entertain guests.
Outdoor movie theater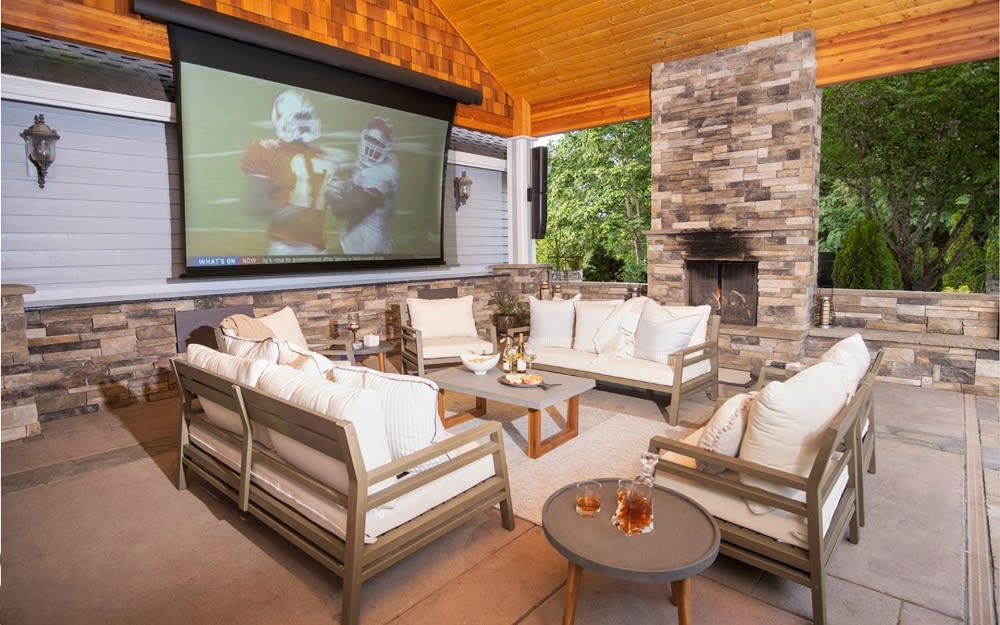 Photo courtesy of Paradise Restored Landscaping
Movie nights are great for entertaining, and with the rise in popularity of inflatable movie screens and portable projectors, there is no shortage of ways that you can turn your
backyard into a movie theater
for the night. With so many ways to transform your backyard for the ultimate movie night, there is no shortage of amenities that won't leave your guests talking or wanting to come back for more.
Fire pits are great for outdoor entertainment. Not only can you and your guests gather around one as you watch a movie, but you can also roast marshmallows, make smores, and enjoy each other's company. Plus, fire pits imminent a warm cozy glow, helping to create a more intimate space. With a variety of shapes, sizes, and colors, and the flexibility of it being an amenity that can be used all year long, it'd be the perfect addition to your Devon real estate.
Decks & gazebos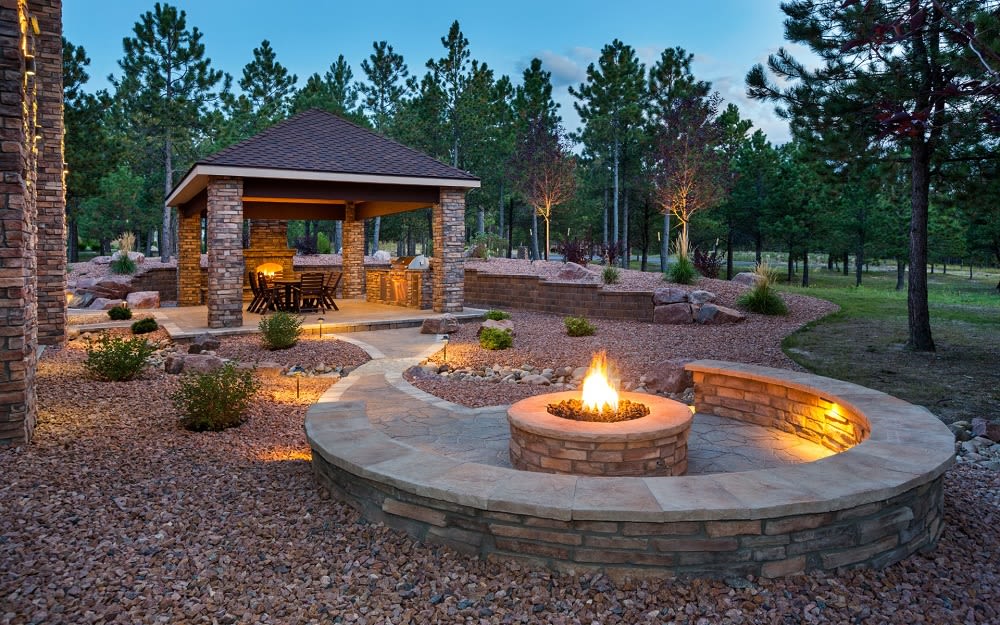 Between the varying design options of gazebos and decks, there are endless options when it comes to creating the perfect sitting and entertaining area in your backyard. Considering just how often contractors are contacted about creating these additions to any home, it shouldn't come as a surprise that this particular amenity continues to remain a luxury outdoor item that most homeowners want.
Outside of these creating a designated area for entertaining, they also provide the perfect space to show off outdoor furniture without fear of them sinking into the grass or being ruined. And with so
many luxury outdoor furniture companies
, the investment in a patio area or gazebo will always be worth it. Plus, these amenities are perfect for building upon some of the other trending outdoor amenities mentioned earlier.
Regardless of what luxury outdoor amenities you decide are a must-have for your Devon real estate, don't forget that there are many ways you can turn your backyard into a place for entertaining. Don't be afraid to mix and match some of these amenities with each other to create an entertaining outdoor space that is right for you. If you're looking for an outdoor space that already includes some of these amenities, reach out to a local realtor since they'll be able to help you locate some of those Devon homes for sale.
Begin your search for Devon luxury homes for sale